3 Steps for Daily Peace and Clarity!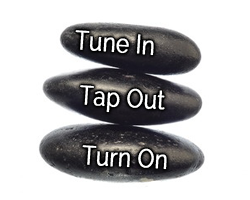 3

S

teps

F

or

D

aily

P

eace &

C

larity!
Do you feel peace and clarity from day to day?

Are you feeling focused and productive moving forward?



Daily life can be busy, hectic and filled with all kinds of experiences, situations, interactions at home, at work that can easily lead to frustrations, overwhelm and setbacks.  With all the different demands being made on you, it is easy to become dissatisfied and resistant. So having DAILY peace, clarity and focus may seem like wishful thinking.

But Daily Peace and Clarity is possible!

For example, think of a candle glowing bright in a clean glass lantern. As the days go by, daily dust and debris begin to cover this glass lantern. Over time, if left un-cleaned, thick layers of dust and debris make it really difficult to see that glowing candle within.

Similarly, emotional dust and debris accumulate within us daily. Feelings of anger, frustrations, helplessness, guilt, feeling less than, fears, self-doubt from daily interactions and experiences begin to create an emotional fog within. This fog continues to thicken until you begin to feel lost, without focus and direction. All the inner noise and turmoil clouds your thinking, your decision making ability and your productivity! It slows you down and keeps you from your dreams and desires.

But what if you took time and cleaned out the DAILY dust and debris?

I have a 3 step process I call TUNE IN, TAP OUT, TURN ON, to clear out the DAILY INNER DEBRIS so you feel peace and clarity and allow that inner light to shine bright. 
Step 1: TUNE IN- Your inner world creates your outer experiences. Create a routine to go within daily and make a note of the clutter INSIDE – mental, emotional, physical. I usually do this in the morning so I can feel clear and peaceful at the start of each day! Make sure you have a pen/pencil and paper. Find a quiet spot and get started.
Take note of your MENTAL CLUTTER –
Make a list of all the stuff that is on your mind. May be its your 'to do' list for the day, or things that are simply on your mind this day.

When we have a list of things we need to do floating around in our head, it creates overwhelm and anxiety. Have it written so it's out of your mind on to a place you can SEE. Once you see it all there in front of you, it feels less overwhelming and you can prioritize them in a way that feels easy for you to take action.
Take a note of your EMOTIONAL CLUTTER
Get quiet and pay attention to how are you FEELING today? Are you nervous about something. Do you feel frustrated about things that happened yesterday? Maybe you are feeling tensed about an ongoing project? Or a future event is making you feel worried right now? Maybe looking at the 'to do' list is making you feel overwhelmed?
Write down how you are FEELING (example: I'm feeling guilt because of. I'm  feeling overwhelm about xyz issue, I am doubting myself  …etc. etc)
Make a note of all the PHYSICAL Clutter
Do you feel stiffness in your neck? Is you back tensed? Do your shoulders feel heavy? Is there pressure on your eyes?

Note down any PHYSICAL discomfort.
Step 2: TAP OUT – Once you have the Mental, Emotional, Physical Clutter listed out, find a way to release it and let it go. My favourite letting go tool is "EFT Tapping'. You can also use breathing techniques, meditation and other visualization techniques to let go of this inner clutter and begin to feel light and free in your mind and body.
Step 3: TURN ON – Everyday you take time to cleanse your body, take a shower and then 'dress up' for the day. Similarly, once you clear and cleanse the inner clutter, you can then 'dress up' that inner shine by setting positive INTENTIONS for the day! Say to yourself…
I intend to have a focused and productive day
I intend to be in the flow today
I am open to all avenues for my success today
I intend to attract all kinds of wonderful experiences into my day today etc.
You could also pump up your vibe by taking a few minutes to appreciating all that is already working in your life.

When your INNER LANDSACAPE is clam, clear and peaceful, and then you set clear intentions for your day, your intentions are clearly heard and by the universe and that is what you attract into your experience every day!  

Remember DAILY practice is KEY!

You don't shower for 10 days and expect to stay clean the whole month. You shower daily to feel fresh daily! Similarly you need to clear the INNER CLUTTER daily for Daily peace and clarity. Not only will you feel peace and clarity, but solutions, inspirations, the right opportunities, the right people will flow into your experience and you will move forward with ease and grace to all your choicest dreams!
---