About Shalini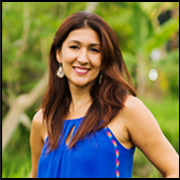 Shalini Joshi Yamdagni is an internationally recognized Physical and Emotional Pain Relief Expert and a #1 best selling author.
Shalini healed herself from her illness and chronic pain which had her confined to bed rest. Doctors, medications and everything else she tried earlier had failed to bring relief. She has since helped hundreds and hundreds of others break free from their pain effectively. Interestingly, her first official client was a doctor!
Shalini's work has been featured on international magazines, newspapers, online news channels and on television too.
As a thought leader on topics of health and wellness and self development, she has been featured in programs and books alongside Marci Shimoff, Janet Attwood, Lisa Nichols and SARK (Susan Ariel Rainbow Kennedy).
As the founder of Magical Pain Free Living, Shalini coaches clients across the globe from Dubai, Switzerland, London, California, India and Thailand etc. She helps them gain awareness of the root causes and helps them break free from their pain and ease into peace and clarity. This new found ease and peace enables the clients to return to a 'state of flow' and attract more joy, fun and magic into their lives!
Shalini's clients have called her "gifted healer", their "angel", an "intuitive healer", or "simply magical" because of the many documented stories of clients achieving life transforming results not only in the area of health but in all different areas of their life –money, relationships, work etc.
After one session with Shalini, I became aware of how our mind and our emotions profoundly impact our health, our relationships and our success. As Shalini used EFT to work on some issues that were bothering me, I was able to feel relief quickly and feel more peace. If you are on a journey to self development, I suggest you take a session with Shalini. Thanks Shalini!

Dhevin Lewchalermwongse
Set Square Printing
I attended Shalini's EFT Introductory Workshop. AS we worked on issues during the workshop, I felt so much lighter. It was also interesting to see how such a simple tool could bring pain relief quickly. Amazingly, other people attending the workshop were also benefiting along together without having to openly share each one's issues! It works wonderfully!

Stephanie Chauvel, Mother
* Read some more of Shalini's client stories, in their own words here.



Follow my videos on You Tube: