Your Unhappiness At Work & Your Physical Pain are Related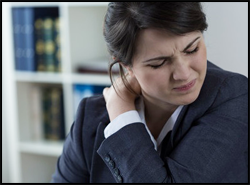 Y

our

U

nhappiness

A

t

W

ork &


Y

our

P

hysical

P

ain

A

re

R

elated
Are you in some sort of physical Pain?
You've been trying different things to break free from pain?  
You are possibly feeling discouraged thinking you've tried everything possible out there and you still don't experience significant relief?
Most of us have been taught to TREAT/FIX/STOP our physical pain/symptoms with pills, medications, balms, surgery etc. We have been conditioned to see our PHYSICAL SYMPTOMS as something that just happen to us. That suddenly something goes wrong with our system and now we are in physical pain! And we had nothing to do with it.

Almost a decade ago, I was at a gym doing abs exercises and noted a pin prick pain in my left rib area. Thinking I overdid the abs which caused the pain, I stopped. I figured the pain would go away but over the next few days, it got worse. Then started the saga of visiting hospitals month after month as no treatment helped. The medications, anti inflammatory pills, the hot packs, cold packs, physiotherapies, ultra sound therapies...nothing helped. Eventually I had to quit my job and be on bedrest indefinitely! I felt hopeless, helpless, angry as I could not even be a regular mom to my children who were 4 and 5 years then. Life was at a standstill! I felt like a victim of my circumstances!

But what if we were not victims of our circumstances?

What if unknowingly we in fact have been contributing to our pain and dis-ease?

Truth is it is not that we are in misery because we have this physical pain. It's the OPPOSITE. It's that our heart and soul have been hurting and aching inside for quite a while and now eventually our body is simply alerting us through the physical symptoms!   

Some signs you are suffering from heart and soul aches and pains:
You are sick and tired of your job and feeling unfulfilled
You don't look forward to work everyday
All your creative juices and inspiration seem to have run dry
You struggle to be productive at work
You feel frustrated watching others around you move ahead of you while you stay stuck
You find yourself complaining more of the times
You feel like you are suffocating and stagnating over here
You tell yourself you "need" this job because of its ...x,y,z benefits and feel no other place on the planet will offer these benefits!
Now you are "waiting"... waiting for something to shift, for something to change, someone to offer you something that you love...and you wait...
You feel like you are not doing anything meaningful here and know in your heart you are meant to do much more
You feel easily irritable at home with family and then feel guilt taking out your frustrations on your family
 your "tolerating tank" seems like its about to burst!
In the midst of all this, you discover some physical pain, ache, or other some symptoms cropping up!
That was my story 8 years ago! By chance, I bumped into Emotional Freedom Techniques (EFT) also called 'Tapping'. As I began using this EFT technique to let go of all the  sadness, shame, guilt, anger, frustrations, resentments and other emotional dust and debris that I didn't even realize had bottled up within, I noted significant shifts in my pain levels. As I religiously worked day in day out for over a month and went on clearing the emotional clutter within, I was completely pain and dis-ease free one fine day. It was now very easy to see how the deep ache in my heart and mind due to my unhappiness at work had over time create pain and DIS-EASE in my body.  

How can you begin your journey to experiencing true relief from your inner and outer pain? Here are some immediate steps you can take:

1. AWARENESS - The first step is to become aware and acknowledge that you are indeed feeling the upsetting feelings within.

2. A CLOSER LOOK INSIDE – its time to really pay attention to what's hurting within. Ask yourself:
What's the pain in my life that I have been ignoring/neglecting?
What emotions have I been bottling up inside?
DO NOT DISMISS or UNDERMINE THESE FEELINGS TELLING YOURSELF ITS NO BIG DEAL, ITS PART OF LIFE!

Yes challenges, upsets, stresses are part of life. But consciously or unconsciously bottling up emotions will cause physical diseases and sometimes can become life threatening too!

3. HAVE A GO-TO RELAXATION TOOL - Every day brings with it different challenges. You need a DAILY go-to method for relaxing when the stresses of the day pile up so you can let go of the disturbing thoughts and feelings instead of allowing them to add up. My personal favorite is Emotional Freedom Techniques. It's easy to do anytime, anywhere and brings quick relief. The only "equipment" you need are your fingertips!
As you begin to focus on healing from within, letting go of the THICK EMOTIONAL FOG clouding your heart and mind and spirit, who knows what clarity, solutions, inspirations might flow in that allow you to create the life you truly deeply desire for yourself!

'Flow' is your natural state. Well-being is your natural state. Pain-free living is your natural state of being. It's time to get unstuck and let go of all the resistant feelings bottled up within and move forward feeling light, free, peace and clarity to your dreams and goals!
---